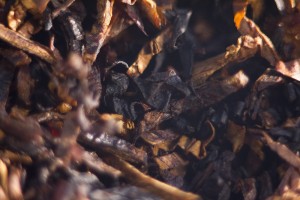 Nothing says summertime fun like an ice cream sundae, and nothing says summertime smoke like this mild aromatic from pipesandcigars.com. One of the Russ' Monthly Blends, Ice Cream Sundae is a mild, sweet aromatic with a blend of mellow Burley, sweet Virginia, and rich, steamed black Cavendish. There is smooth vanilla, a bit of chocolate, and some cherry notes in this ribbon cut blend.
Ice Cream Sundae is a mild smoke with really wonderful flavors that are just subtle enough. This isn't some overpowering flavored tobacco. The Burley and Virginia give you enough of a real tobacco taste, and the flavored Cavendish settles in nicely. You won't feel like you are smoking some candied drug store tobacco here. This smoke feels creamy on the tongue and has a slight chocolatey bite… not much, but slight.
Ice Cream Sundae has a very pleasant room note. This is the type of tobacco that people will stop to get a whiff of. I usually smoke English blends when I am alone at night, and aromatics during the day. I do this mostly because of the more pleasant room note of the aromatics. This blend is a top contender for that room note. I honestly wish there was a way that I could share the scent of this blend with you across the internet. I would smoke this just to wear the smoke as a cologne.
I picked up the Ice Cream Sundae blend as part of the "Best of Russ" sampler pack that came with 5 different 2 oz packs of Russ' monthly blends. This is the first blend that I have tried from Russ Ouellette, and I must say I am very impressed. This may become a staple in my smoke stash… but I will reserve judgment until I try the rest of the blends that came in this sampler.