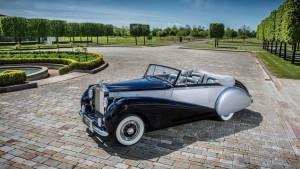 Rolls Royce Motor Cars announced a new model to their luxury brand. Joining the Wraith, Phantom, and Ghost models will be the new drophead Dawn. Revitalizing the name first used in 1949, but only ever applied to 28 very special drophead bodies between 1950 and 1954, the Dawn model is promised to be a unique limited edition model sure to stir the loins of the wealthy car lover.
"Our new Rolls-Royce Dawn promises a striking, seductive encounter like no other Rolls Royce to date, Dawn is a beautiful new open-top motor car with a name that suggests the fresh opportunities that every new day holds – an awakening, an opening up of one's senses and a burst of sunshine. It will be the most social of super-luxury motor cars for those beautiful people who wish to bathe in the sunlight of the world's social hotspots." said Torsten Mueller-Oetvoes, Chief Executive Officer of the brand.
Arguably, no brand of automobile is better known as a pinnacle of class and luxury like Rolls Royce. Yet a convertible model has been missing in their modern line up until now. The new Dawn model changes that bringing the joys of topless motoring to the ultimate name in luxury automobiles.
Although Rolls Royce released pictures of a 1952 Rolls Royce Dawn with the announcement of the revamped Dawn Model, we can assume that the new Dawn will look more like one of the current models. Although, this writer holds out hope that it will look more like the 1952 Silver Dawn pictured. (but hey, I have a thing for flared fenders… what can I say, I own a Morgan)
'Dawn' perfectly expresses the character of the new Rolls-Royce. In its tentative, inchoate, anticipatory state, dawn is the world coming to light from the ethereal dark of the night. The early-day chill of dawn provides an erotic tingle on the skin, awakening the senses and passions as the day begins.